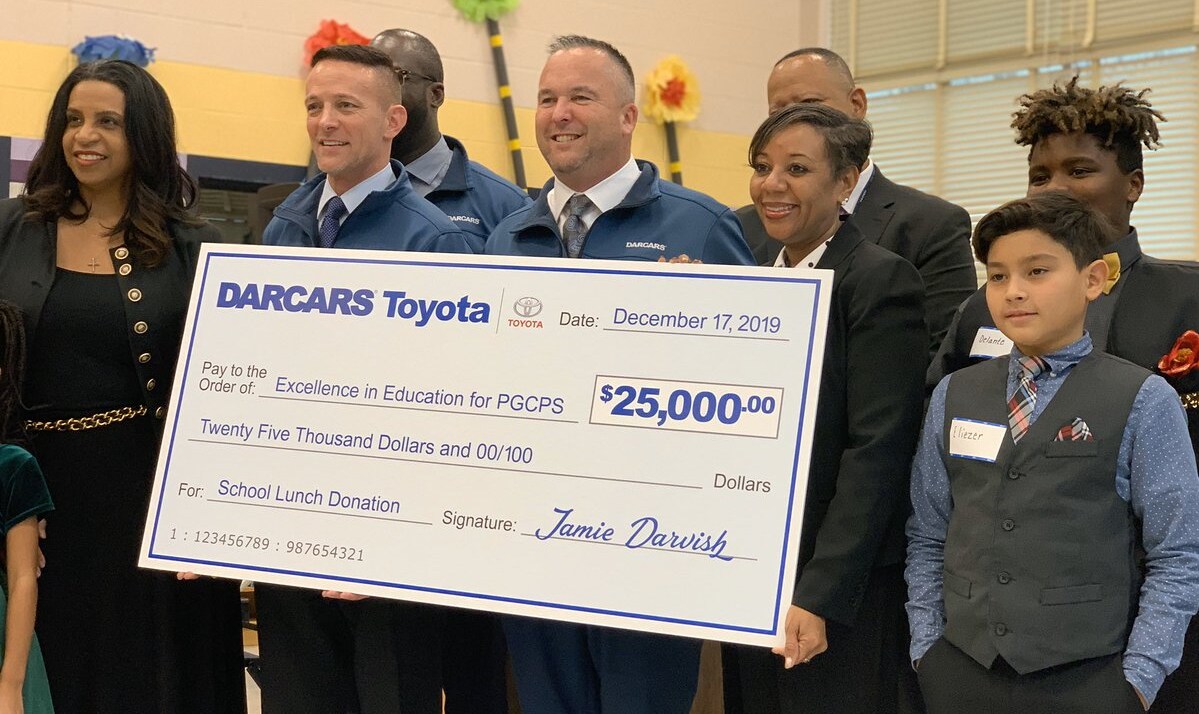 DARCARS COO Jamie Darvish presenting a check to the nonprofit organization Excellence in Education for PGCPS 12.17.2019
"More than 75% of school districts reported having unpaid student meal debt at the end of the 2016-2017 school year, according to a 2018 report by the School Nutrition Association, which surveyed 1,550 districts nationwide."
Here at the DARCARS Automotive Group we are very thankful for the success and support we have received from the community over the 40 plus years we have been in business. Ever since our first store opened we have been committed to giving back to the community. During this Holiday season we wanted to take another opportunity to give back to the community which helps make what we do possible.
On December 17th, the DARCARS Automotive Group paid off $25,000 in school lunch debt for the Prince George County Public School District which teaches over 136,500 students enrolled in 206 schools across the county. The donation will help clear a debt of $16,000 accrued so far this year with the remainder going toward paying off future debts, according to PGCPS spokesperson Gabrielle Brown.

DARCARS was not done there, as on January 7th, we followed up our first donation with a second donation to the Montgomery County Public School Education Foundation. Around the same time, we here at DARCARS were preparing to make a matching donation to the MCPSEF, the Chuck Levin's Washington Music Center also planned to make a donation of $30,000 to help pay off Montgomery County school lunch debts. As both of our institutions have numerous team members who are products of this great school district we increased our initial donation of $25,000 to $30,000, as we were moved by the generosity of our local business community member. The two donations combined to $60,000 which makes a substantial impact in improving the outlook for key members of our community, in our students.

During this time of year we here at DARCARS want to make sure we take time to be thankful for what we have and help to share that fortune and good will with those in need. Our company philosophy of community outreach is shared from top to bottom, as echoed by Jamie Darvish, "I thank God that I'm in a position, and my company is in a position, to offer the help that were able to do, and were going to continue to do it as long as we can."

"DARCARS Toyota is happy for the opportunity to be able to pay off the current school lunch debt of every student in Prince George's County. School lunch debt is a serious problem in this country that impacts the well-being of students and their families," Darvish said. "As a member of the Prince George's County community, we at DARCARS felt it was our obligation to step up and help families in need. I really look and I see it's not easy to be a kid today," he continued. "The last thing in the world that a child needs to worry about is eating. And being hungry makes accomplishing tasks of overcoming those challenges and burdens in society that much harder. So I'm honored and I'm glad that we could step up and do this."
"And stay tuned. We're not stopping here."
---
The DARCARS Automotive Group Has Now Donated Over $50,000 Towards Fighting School Lunch Debt Across the Region This Holiday Season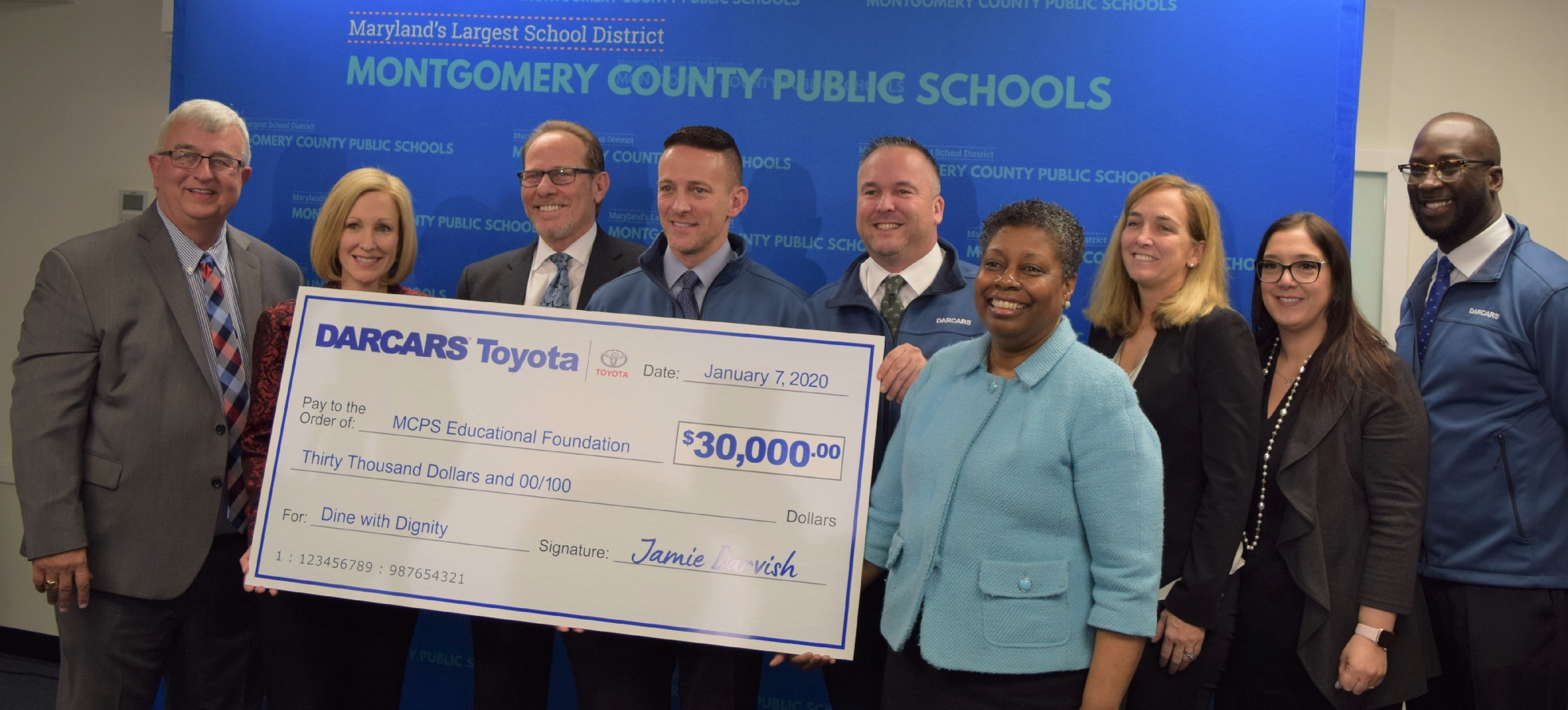 DARCARS COO Jamie Darvish presenting a check to the nonprofit organization MCPS Education Foundation 1.7.2020
"Last month we were able to pay off the school lunch debt in Prince Georges County, and now DARCARS is happy for the opportunity to be able to pay off the current school lunch debt of every student in Montgomery County as well," said DARCARS COO Jamie Darvish. Darvish also added, "In the past month we have paid off $25,000 of school lunch debt in Prince George's County and now this additional $30,000 of debt in Montgomery County, we are glad to see that our initiatives have inspired others as well."
We, here at DARCARS, would again like to thank the Chuck Levin's Washington Music Center for their great generosity during this time of year! We cannot be thankful enough to be surrounded by community partners who continue to push us and others to give back and make a positive impact in our community. Our plan is to continue good work in the community during 2020, so be sure to stay tuned to see what we do next!