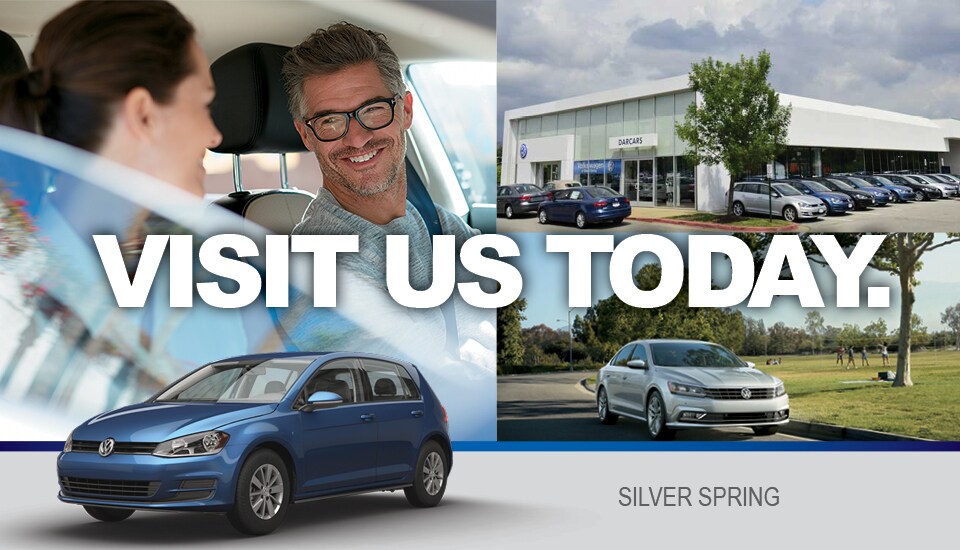 Our DARCARS Volkswagen Dealership Will Take Care of All Your Volkswagen Needs
If you're looking for a new Volkswagen dealership in Maryland, you're welcome to visit our Volkswagen dealership in Silver Spring. At DARCARS Volkswagen, you can find a great new car, take care of your auto financing and get the auto service your car needs. Since this dealership is a part of the DARCARS Automotive Group, you can expect a top-notch facility with an extensive inventory of high-quality vehicles. You can also expect competitive prices and great financing options, along with excellent auto service. And on top of all that, you'll get great customer service each time you walk through the door.
DARCARS Volkswagen is conveniently located at 12511 Prosperity Dr, Silver Spring, MD. Drivers from all over Maryland, Virginia and Washington DC are welcome to stop by at any time. Our dealership is easy to find and we are always happy to help drivers from all over find just what they need at our dealership.
When you visit our Volkswagen dealership, you'll find a wide selection of new Volkswagen vehicles. We have all kinds of cars and SUVs available, including models like the Jetta, Golf, Tiguan, Atlas and many more. Each model has something unique to offer, but you can expect a great ride from each one. Volkswagen vehicles have a lot to offer; many of them offer more power and better handling than the competition for a more exciting ride. These vehicles also offer great features and comfortable interiors so you can enjoy the ride. And you can get all that at a reasonable price.
In addition to our great new Volkswagen vehicles, we also offer a number of used cars. This includes used Volkswagen models and a variety of other makes and models as well. Each one has been carefully inspected to ensure it is in great shape s you can feel confident behind the wheel.
No matter which vehicle you choose, you can expect a competitive price from our DARCARS dealership. We offer fair prices on all of our vehicles and we also offer a variety of special offers to help customers like you save as much as possible. We also have a great finance department where we can help you with your auto financing needs. Our staff will gladly help you get the auto loan or lease that works best for you.
Even after you're out on the road in your new Volkswagen, you can count on us for support. We have a top-notch service center, where our skilled technicians can help with all your auto maintenance, repairs and parts needs. We can help you keep your car in great shape for a long time to come.
Whether you visit us to find a new car or to service your current car, you can expect excellent customer service. We put our customers' needs first and we're always happy to offer any assistance you might need. When you visit any one of our DARCARS locations, you can expect to have a great experience.
When you're ready to take care of your Volkswagen needs, feel free to stop by our DARCARS Volkswagen dealership in Silver Spring, MD. Our staff will gladly help you find the new vehicle that's perfect for you, then make sure you get the financing you need and help you keep that car in great shape for years to come. Visit our Volkswagen dealership at your convenience and we will help you get started.